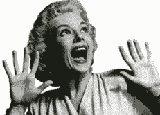 Why would the bible say, "Fear God?" I've asked myself that question over and over through the years. Someone once told me it was to show reverence or respect to God. I could accept that, but it didn't seem adequate. As my pastor said this past Sunday, "Reverence sounds like distance." It has a formal tone to it.
So, what did God mean by fearing Him. Ps. 33:18 says, "The eyes of the Lord are on those who fear Him, on those whose hope is in His unfailing love." A God who has unfailing love doesn't sound like a distant God. Certainly not one that we should be frightened to approach as the word "fear" often leads us to think.
Over and over the phrase is used in the bible. My very limited index in the back of my bible holds 15 references about fearing the Lord.
I have to admit that I didn't hear the whole sermon last Sunday. I had children sitting beside me (and actually on me) asking me how to spell things, playing with my wedding rings, burrowing into me trying to find a comfortable spot. But between the wiggling, something sweet appeared on the screen in front of me. To fear the Lord means: desperate dependence resulting in reverent intimacy.
When I realize that without Him I'm sunk, that brings fear in me. Knowing that I need Him, desperately, causes me to depend on Him and builds in my heart a reverent intimacy. Pride goes out the window. Self-pity, shame, guilt…none of those things can find a place in my heart when I am completely dependent on Him.
I want the unfailing love of the Lord; I want His eyes on me. If you do to, then it's time we understand that He isn't a distant, hard, uncaring God. He is, rather, a gentle, loving Father who cares about the details of our life and wants desperately for us to depend on Him for all the details.
Sharon
(Thanks for your insight and study Roy.)